An Interview and Poems from Taylor Johnson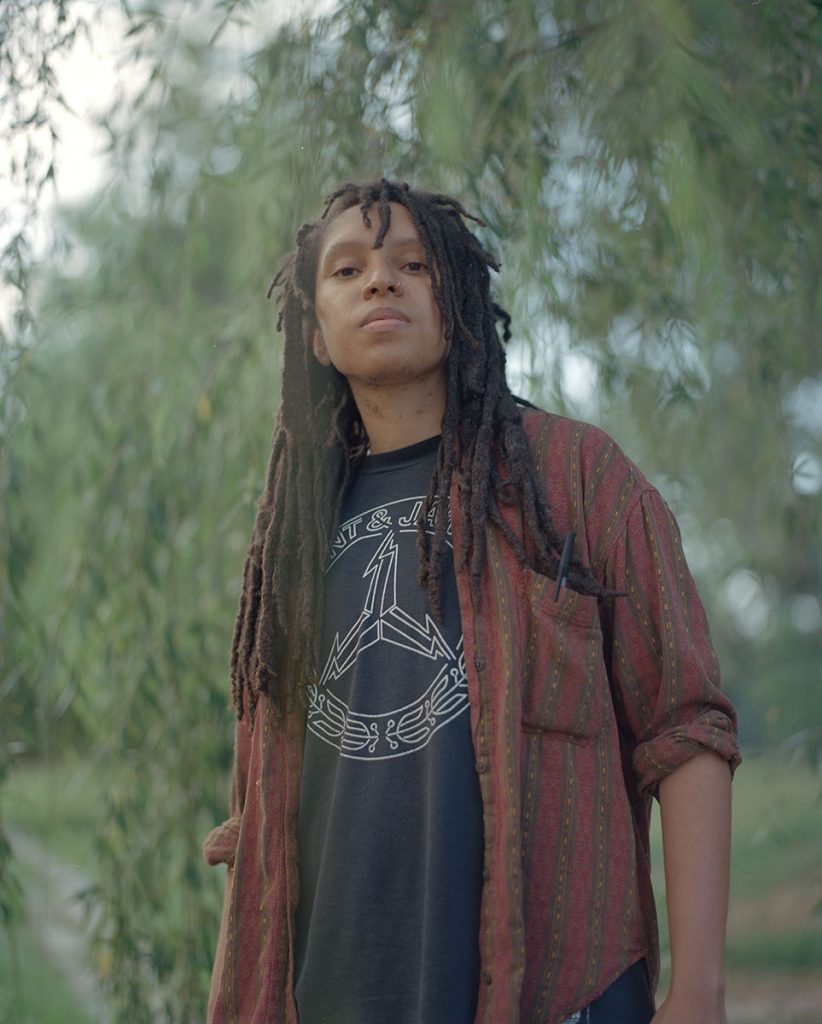 Taylor Johnson is proud of being from Washington, D.C. They've received fellowships and scholarships from CALLALOO, Cave Canem, Lambda Literary, VONA, Tin House, the Vermont Studio Center, Yaddo, the Conversation Literary Festival, the Bread Loaf Writers' Conference and the Bread Loaf Environmental Writers' Conference, among others. In 2017, Taylor received the Larry Neal Writers' Award from the DC Commission on the Arts and Humanities.
Their poems appear in The Baffler, Indiana Review, Scalawag, and the Paris Review, among other journals and literary magazines. Their first book, Inheritance, will be published November 2020 with Alice James Books. Taylor lives in southern Louisiana, where they listen.
Photo of Taylor Johnson by Sean D. Henry-Smith
Interview with Taylor Johnson
Interview by Mateo Lara
Revolute: What does writing offer you?
Taylor Johnson: Writing poems offers me the time to live fully within the haptic sense of being alive, which I believe is discouraged within the current techno-capitalist framework of everyday living. Writing poems is a devotional practice, and I find freedom in that devotion and discipline.
R: How do you balance identity/ies and engagement? Is there something that bridges your identities?
Taylor: I try to work through a sense of attentive presentness in my poems, being here. Here being all the moments that have led to the now occurring present, which means I'm looking at the past and looking ahead to what could be. I think my poems live in that space of presentness and foresight. Sometimes my poems work out a feeling that, in the moment of writing, I've yet to feel holistically. But then I get to it, I get to the feeling, and look back on the knowledge of the poem. I try to create the container for wondering, then some answers emerge, some answers leave. All of this is always in flux, which is what I dig about poems.
R: What encourages you to pursue your art? Who inspires you?
Taylor: I'm inspired by the persistence of life on this planet, despite the discordant and violent nature of human evolution. By some grace, I've been given the opportunity to live my life as an artist, to make use of my time through creation and reflection. I know that opportunity doesn't pass by everyone, so I'm inspired by the work of the people within my line that have made it possible for me to even have these kinds of questions asked of my work and my process.
R: How does your platform allow you to engage with the many communities that you are a part of?
Taylor: I don't know too much about having a platform, but I do dig having conversations with folks, and I'm grateful to connect with people, who I wouldn't otherwise know, because of poems I've written. A few months back, someone in Colombia reached out to me about reading some of my poems on a free jazz radio station out there. I think it's beautiful that someone could be listening for Cecil Taylor or Pharaoh Sanders, and hear one of my poems because they were listening for something else.
R: What are your current favorite books, movies?
Taylor: Three books I love: Eye Level by Jenny Xie, Across the Mutual Landscape by Christopher Gilbert, and Poetics of Space by Gaston Bachelard. Last year I watched the movies Non-Fiction and Certified Copy, both which star Juliette Binoche, who I love.
R: What do you hope for the future?
Taylor: On a wide scale, I hope for the end of capitalism. More locally, I hope that folks read my book when it comes out.
R: What do you currently have in the works? Plays? Poetry? Shows? Events? Readings? Link us!
Taylor: My first book of poems, Inheritance, is coming out in November with Alice James Books. I don't have any readings planned for it yet, but I dig sharing poems out loud, and I'm looking forward to reading and connecting with folks when my book comes out. I'm reading some poems at AWP in March. My website will have more information about what I have going on as it comes up: taylorjohnsonpoems.com
R: Finally, for the garden, if you could describe yourself as a flower, tree, fruit, plant, what would it be and why?
Taylor: Living in New Orleans I've had to find a whole new way to breathe, considering the humidity and the petrochemical industry hanging in the air. I've been drinking yarrow to help me out. I think there's some mythology around yarrow about invincibility, but I connect with the plant for how it's helped me breathe. It's an imperceptible plant, might look like a weed if you're not looking for it directly.
~ Poems ~
[ABM Can't feel my face]
Running into you on U street one spring night puts a texture to my economic anxiety and social grief.
Running back the macrofeel in the monastic field of thought, riding the black morning bus to the wealthtrap.
What did you think of the house-cleaners and the au pairs and the people working the land bused in with us?
I had a feeling to ask judging by the electric motherfucker sadness was in that educational zoo within a
school we were shown in. Which is to say, I could feel you then. Some bootstrap theory we were given over
to and resounded in. The music of a quarter in your pocket when I need it was all I needed to continue;
money ain't a thing but the holes in my timbs. I can't feel my face because you were acting it out and I
loved you for that. I wondered who I was realizing I was just like you.
____
Love on the bridge. I can't stop singing about
how clean you broke me. Deny me again,
love on the fire escape saying nevermind,
nevermind, speaking low. If all this ends,
let me say now that in my solitude I pace
around the winter you pressed me up
against my kitchen wall. You were an appeal
to my loneliness, not its end. We
swallowed the white light,
chanted the same lament down.
Love on the light bus love holding my hand
up Fulton, love giving me your cheek,
letting my hand slip. I thought you came here
with some music some tending to.
I wanted to burn money with you, or for you.
No matter baby, immateriality is
our ontological birthright. A hard cider,
the light in my hands, then    levitation.
                                           ____
Black Existential Exegesis
This engine and cog business is wigged out. I want nothing we're owed from the ship gig, thence, the land
whereon modern sound weaned off our cowrie and cached aged conjure. Land whereon our woe is chic
and wanted. Shoutout to every nigga cajoled into winging it in a crowd, crowing about being the hewer
and the hewer's subject. O my aching chore choir, dew upon our ochre echo throughout this land, this
cadence gag. Our eco-ego greeded upon and caged. Grace is our awed crowd which encores green and
geodes. Shoutout to every nigga dodging age by ignoring human genre fiction gore. Ergo, we're nowhere
reneging on being owned, and renewed weighing nothing like race. Shoutout to every nigga eroding off
the edge of something else gossamering the air.
____
"My idea of abstraction is white lightning"
Halfway between Gonyon and Ophelia   imminent splendor.   It doesn't matter what I don't know.
Clouds creating a blue fissure in the sky,  whose grammar   whose sadness hurries forth?
I want to speak to order: soybeans, corn, wheat rows browned to torpor.
Mercy.     Protozoan, water-shorn,    hotly I listen     in the pines for my green name.   Whoever can
stop reasoning,  stop.   Is it too much to ask   to be remade       I who've just begun?
Adagio of light, copper-hued diadem
hanging on twilight's hem, Virginia sun— I'm yet released from the
sharp language of being: make me another by morning    lest I stay
in this vestibule   wholly unmade.