Amy Meng. Bridled. Pleiades Press, 2018. 68 pages. $17.95.
Reviewed by Lesley Wheeler
Amy Meng's elegant debut collection takes the end of the marriage plot as its starting point. What if you begin with a tied knot and start to pick at its fibers, investigating what's been bridled, or bridalled, and how? In tightly-sequenced lyrics, Meng first portrays a woman whose identity is lost through love; then comes the difficult break-up. In the third and final section, the author reflects on myths that bind her and how she might be free. Meng's approach to this old story is intelligent and appealing, resisting simplification by means of intricate imagery and a contemplative tone. The book begins, for instance, with asymptotes and pain that "spreads like slow ink," and it proceeds through innumerate foldings, entanglements, and metaphors of mutual implication. The most famous unweaver appears in a striking poem rereading Penelope's ruse "as a way to be alone./ There was only one story/ that did not lead directly into the heart/ of a man./ She spoke it clearly/ to herself, though to others/ it sounded like waiting." I did find some parts of the book personally painful in their familiarity, especially when Meng reports a fantasy in "To the Altar": "I dreamt of being thin/ and boring as a Saltine/ crusted with diamonds./ I dreamt of no work." Since "beauty is the leash," this middle-aged person wishes we could all just snap it already. Until it's possible to abandon the labyrinth, however, keep Meng's strong and flexible lines in your pocket.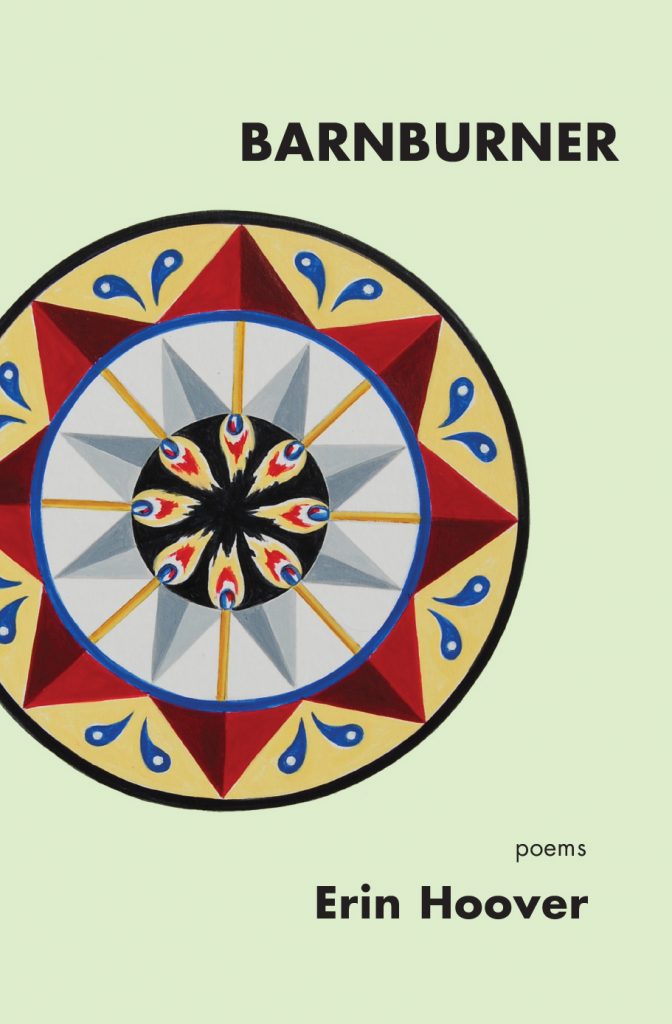 Erin Hoover. Barnburner. Elixir Press, 2018. 96 pages. $17.
Reviewed by Lesley Wheeler
Literary authenticity is weird. How can ink on a page transmit a vivid sense of the interior life of a vulnerable stranger? Erin Hoover's debut collection, Barnburner, nevertheless pulls off that endlessly moving trick by conveying, with intelligence, humor, and riveting detail, the crises of a woman who "began to leave the place/ I lived from the day I was born." The terrain is marginal: small-town Pennsylvania poisoned by radiation; backstage at concerts where "one passed-over object" kisses a drummer from Staten Island; office cubicles in which the speaker languishes; an alley where she wakes up after eight lost hours, unsure if she's been raped. Hoover's imagery of uneasy embodiment is often stunning, as when she refers to her mind as "a knife in the velvet bag/ of my body," and many of her mostly free-verse poems blast open with killer first sentences. As Kathryn Nuernberger writes in the preface, the book "goes full throttle," and the subject matter of anxiety, addiction, trolling, and sexual assault is intrinsically powerful. Poems such as "Anticonfessional," further, are smart about the hide-and-seek games poetry plays, even in narrative modes. As Hoover writes about "Reading Sappho's Fragments," "I prefer the whole…no gaps/ to leap across," yet so much here concerns what is temporary and partial. I found myself thinking hard, as I read all these intimate poems about intimacy gone wrong, about the role of writing in my own emotional life—to what extent openness with distant readers has compensated for fear of closeness in nearer quarters. Barnburner is an intense and sometimes devastating collection.
____
Lesley Wheeler's forthcoming books include Unbecoming, her first novel; The State She's In, her fifth poetry collection; and Poetry's Possible Worlds, a suite of hybrid essays. Recent work appears or is forthcoming in Massachusetts Review, The Common, Ecotone, Gettysburg Review, and other journals. Poetry Editor of Shenandoah, she lives in Virginia and blogs about poetry at lesleywheeler.org.